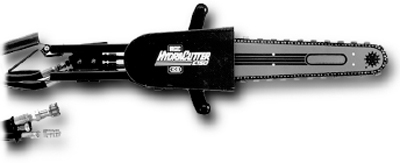 14 - Inch RGC Hydraulic Saw
Part #004018, $1,398.00

14" RGC Hydraulic Saw Blade Speed 4500rpm Cutting Depth 5-14/" Weight 21 lbs. RGC HydraSaws are lightweight; will cut in any position; maintin constant hydraulic power for constant cuttng speed andtourk; direct drive; permanent bearings; wet cutting attachemnt; way be used with abrasive, diamond, concrete, steel,and carbide tiped blades. All RGC Saws include bladeguard water attatchment for wet cutting, hose wip w/ flush face fittings and trigger lock. (hydraulic requirements 5-8gpm@ 2000-2500psi.